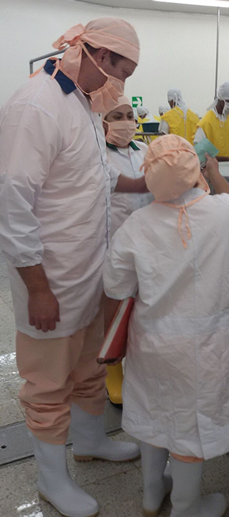 Do you need assistance with certification?
Not sure if you are meeting the standards?
Want to ensure that your programs are set up correctly?
Market pressures in today's globalized economy's call for companies to maintain the most current quality management systems. Operations are constantly updating these systems, and integrating with new technologies to remain competitive. Our team is experienced with the latest standards and technology to help your business meet certification requirements.
SQSA is not a Certification Body, but we are contracted by CB's to audit operations against several accredited certification schemes. We are also contracted by clients to help prepare their operations for initial certification audits, or help train new staff members to maintain existing audit programs.  SQSA provides you with an "auditor's perspective" that way your staff is more confident and prepared for their initial audit. We first conduct a pre-assessment and site visit to find the gaps in your management programs. Then we collaborate on implementing protocols and record-keeping practices. Through this consultation, your staff will become more familiar with the standards, certification bodies, and the audit process. Learn more about our professional team.
From water to plate, virtually all stages of the seafood supply chain can be audited. Its SQSA's focused goal to help simplify all ends of seafood certification. You can feel confident that your concerns will be addressed rapidly and professionally.
Additional Resources & Links
FDA DWPE/Import Alert removal
FDA 483 warning letter responses
FDA Nutritional labeling requirements
Food Safety Modernization Act (FSMA)
NOAA/SIMP chain of custody documentation
US Agent Services
SafetyChain Software Implementation Services